About the company
For more than 13 years we have been helping companies and public procurement authorities to manufacture electronics for application in industries where reliability and trouble-free operation of equipment are of great importance. We build mutually beneficial partnerships with customers, and each member of our team works to achieve the main goal, which is the fullest satisfaction of the needs of each customer. That is why we have long-term relationships with most of our customers.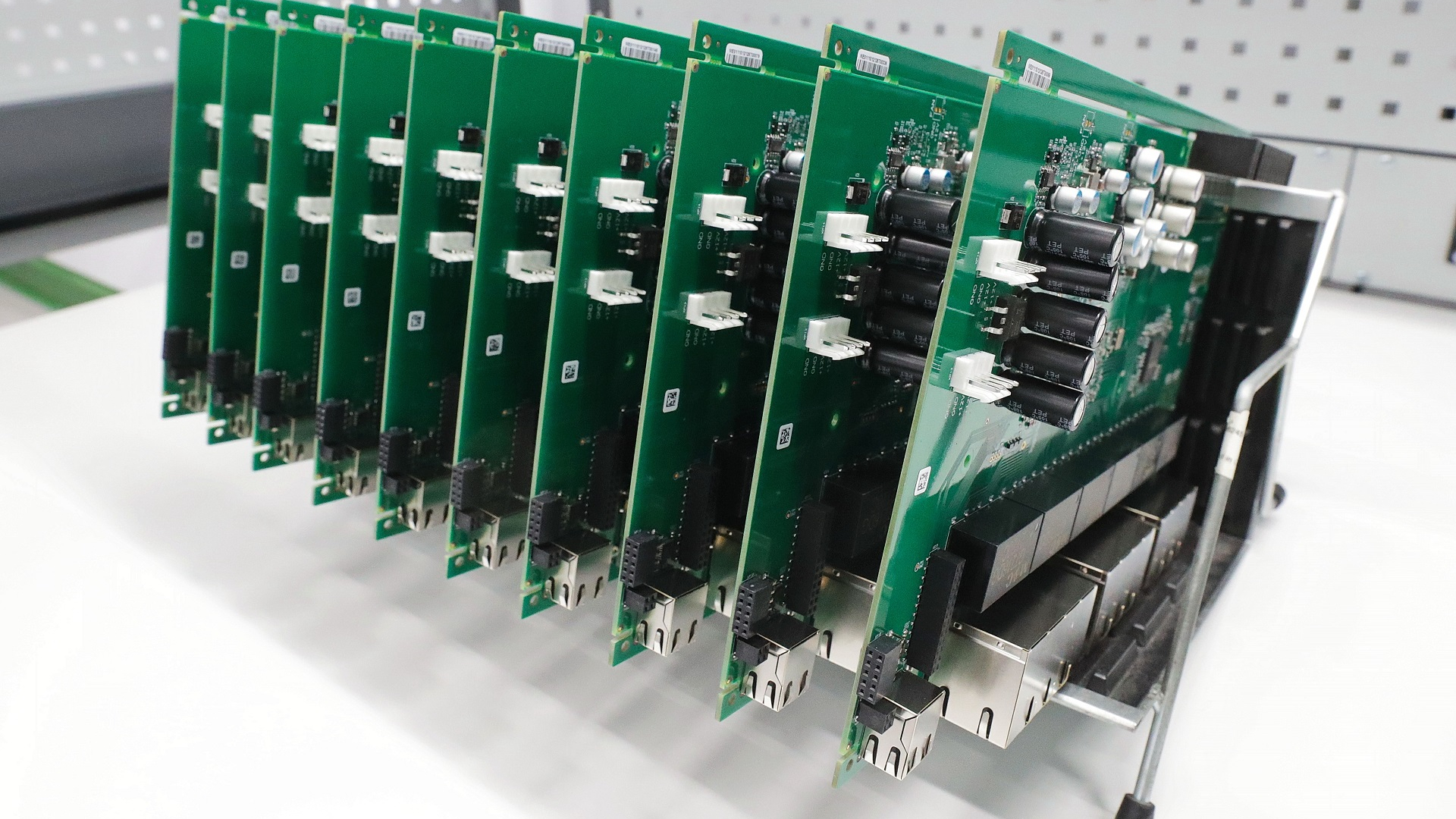 Our Mission
We provide our customers with high-quality electronics original design manufacturing services with strict compliance with the deadlines at the most competitive overall price.
We have reliable and state-of-the-art manufacturing facilities and processes for the assembly of highly complex printed circuit boards, manufacture of electronic systems and modules, where quality and reliability play a key role.
The Past. The Present. The Future
Under the Russian distributor of electronic components, Macro Group, an "original design manufacturing of electronics" subdivision was established.

Purchase of an SMT assembly line, its siting in rented premises.

Purchase of industrial territories with production buildings, installation of 2 of own SMT-assembly lines and organization of turnkey manufacturing of electronics on an area of 2,000 m2.

Commencement of construction of a 4,000 m2 production building to expand the existing production facilities.

Installation and launching of 4 state-of-the-art SMT-assembly lines in the new building.
Installation and launching of the wave soldering system GoWave of SEHO Systems with local nitrogen insertion of the solder waves.
General information
| | |
| --- | --- |
| Establishment | 2007, as part of Macro Group Group of Companies |
| Location | St. Petersburg, Russia |
| Activities | Original design manufacturing of electronics |
| Turnover | RUB 500,000,000 |
| Employees | more than 60 |
| Manufacturing | 2,000 m2 (additional 4,000 m2 are being built) |
Among the TOP-10 original design manufacturers of electronics in Russia.
State-of-the-art equipment fleet
| | | |
| --- | --- | --- |
|   | Line 1 | Line 2 |
| Stenciled printer for application of solder paste | DEK Horizon 03Ix | SJ INNO TECH HP-620S |
| Automated solder paste inspection (3D SPI) | KOH YOUNG KY8030-2 | Parmi Sigma X |
| Surface mount component fitter 1 | Panasonic NPM-W2 16/8 | MiraeMR40L |
| Surface mount component fitter 2 | Panasonic NPM-W2 8/3 | Mirae MR40LP |
| Surface mount component fitter 3 | Mirae MR40LP | - |
| Reflow conveyer furnace | ERSA HotFlow 2/12 | TSM A70-i82 |
| Automatic optical inspection of conveyer type | KOH YOUNG ZENITH | MIRTEC MV-7 OMNI |
Production capabilities of SMT assembly lines
range of dimensions of components: from 01005 to 60 × 60 mm
used types of enclosure: SOIC, PLCC, TSOP, QFP, BGA, flip-chip, surface-mounted connectors up to 100 mm long, holders for SIM cards and memory cards, parts up to 10–20 mm high
installation of microcircuits with a lead pitch of 0.3 mm
dimensions of the printed circuit board from 75 × 50 × 0.4 mm to 430 × 460 × 4.0 mm
width of the technological field for gripping and fixing the board – 5 mm
PCB thickness: 0.4 to 4.0 mm
100% automated quality control of solder paste application
100% automated quality control of soldering
Additional equipment
Selective soldering unit ERSA VERSAFLOW 3.15
Nitrogen wave soldering unit SEHO GoWave
Press-Fit 677430-2
Soldering stations Weller WD-1M
Repair station ERSA IR/PL650A
Washing unit KED 600
Ultrasonic bath
Laser marker
X-ray control unit Nordson DAGE Quadra7
Are you looking for an original design manufacturer specializing in the manufacture of electronics for industries with high reliability requirements? In this case you should contact us.